Generally, it is a good idea to update your estate plan at every major life event, such as pregnancy, marriage, divorce, or major purchases. The U.S. Supreme Court decision of Dobbs v. Jackson's Women's Health Organization, 597 U.S. ___ (2022) has profoundly shaken up the legal landscape for pregnant women. It overturned Roe v. Wade, 410 U.S. 113 (1973), which legalized abortions nationwide. Estate planning after Dobbs needs to take into account this changed legal landscape.
New Yorkers Are Safe for Now
Do you live in New York? If so, we have some good news. The Reproductive Health Act of 2019 expanded access to abortion in New York. Abortion is available to anyone in New York, residents and visitors alike, up to 24 weeks post conception. Late-term abortions are available to protect the health of the mother or if the fetus is not viable. New York insurers must cover these services.
Abortion Banned or Restricted in 21 States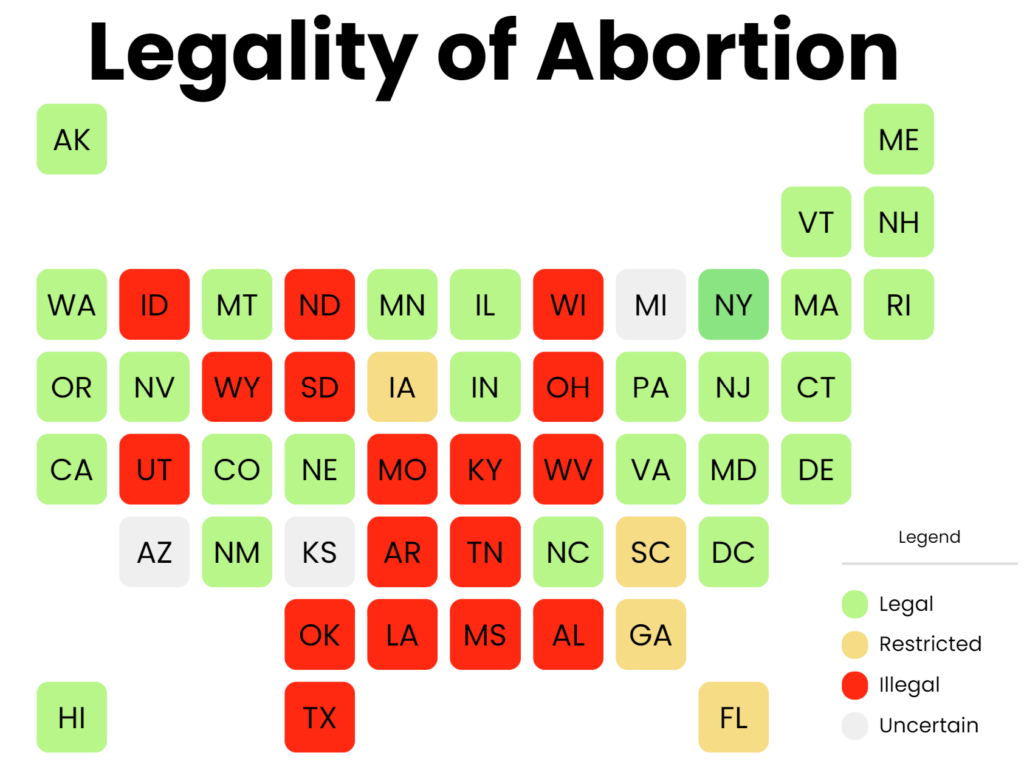 Outside of New York and the Northeast, the situation is different. Twenty-one states either ban abortion outright (e.g., Texas) or provide for very short windows during which abortion is legal, effectively banning it in most cases. Kansas is awaiting a vote on a constitutional amendment banning abortion.* Arizona and Michigan have old abortion bans on the books that predate Roe and it is currently unclear whether they will be enforced.
The patchwork of different regulations deeply complicates family planning across the nation. First, it imposes severe financial burdens by forcing women to carry unwanted pregnancies to term. Second, it raises the risk of criminal charges for persons seeking abortion care in some states. Finally, it limits access to healthcare for pregnant women, risking their health and lives.
Unwanted or Unviable Pregnancies Impose Severe Financial Burdens
Having a baby is perhaps one of the most important decisions in one's life. Sadly, feelings of happiness often clash with the economic reality of having a child. In a country that provides neither universal healthcare nor maternity leave, babies are expensive. The cost of giving birth alone averages $15,000 and can exceed $20,000 for C-sections. The first persons congratulating you on your newborn could be bill collectors.
This money is, of course, well spent if it rewards you with a healthy baby. In states that ban abortion, however, you may have to go through an unviable pregnancy. Further, families might be on the hook for a lifetime of care for a child suffering from severe birth defects. As of now, states that ban abortions seem unwilling to provide for clear exceptions.
Pregnant Women Face Increased Pregnancy Risks
The lack of clearly defined exceptions to pregnancy bans poses its own threats. If you are pregnant and live in, or travel to, one of the states that ban abortion, you may find it challenging to access healthcare. Healthcare providers will be reluctant or unavailable to treat you, fearing inadvertent prosecution. For example, Texas Senate Bill 4 places onerous burdens on healthcare providers treating pregnancy complications. It outright bans certain drugs and procedures that are used to induce abortions, even though these drugs and procedures are also used to treat miscarriages. Noncompliance, even unintentional, is a state jail felony. The law even removes prosecutorial discretion from state officials, requiring prosecution of all violations.
It is easy to see why healthcare providers would think twice before treating a pregnant woman suffering a miscarriage or other complications. The laws are new, they are drafted to maximize prosecution, and the penalties are severe. It is likely a healthcare provider will err on the side of caution and prioritize saving the pregnancy over doing what's best for the mother.
But it is not just the healthcare worker that must fear prison. If you suffer a miscarriage in some states, you should have a criminal defense attorney on speed dial. This is because states may seek to punish you for doing anything that could have harmed the fetus. For example, Brittney Poolaw of Oklahoma, a former drug user, is facing jail time for miscarrying her baby. The medical examiner confirmed that her fetus suffered from birth defects and would not have lived in any case regardless of the trace amounts of drugs found. Nevertheless, the prosecutor held Poolaw liable anyway, and the jury agreed.
A Comprehensive Estate Plan Can Help Soften the Blow of Dobbs
While estate law cannot eliminate these risks for families, it can put you in the best position to face them. Estate planning after Dobbs is more important than ever. Even in New York, which currently protects pregnant women, it is a good idea to have a comprehensive estate plan in place before having a baby. This plan should include the following:
A will, which protects your loved ones in the worst-possible outcome.
A living will and healthcare proxy, allowing your family to make medical decisions on your behalf if you become unable to.
A durable power of attorney, so that your family or someone you trust can keep paying bills and make financial decisions while you are in the hospital.
A trust to protect family assets, such as other children's college funds, from creditors, in case of unexpected financial liabilities.
Jaros MacKinnon LLP, your wills attorneys in New York, will be happy to create a comprehensive estate plan for you so that you can focus on your family and set some of the worries of pregnancy aside.
* 08/02/2022 Update: Kansas voters rejected an amendment to the state constitution banning abortion.
Photo Credit: Derek French